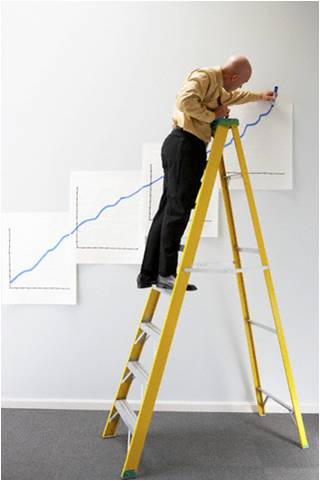 1. Employment law. President Obama just signed a law making it easier to bring employment discrimination cases. See "Law Firm Marketing Should Focus on Employment Law" at http://www.lawmarketing.com/pages/articles.asp?Action=Article&ArticleCategoryID=58&ArticleID=852
2. Commercial leases. There is a downturn in retail shopping, and people are not going to the mall as much as in the past. Retail store owners will need legal help to negotiate cheaper leases, free utilities, rent holidays, etc. See "Recession Has Landlords of Retail Tenants Extending Discounts of Their Own" at http://www.nytimes.com/2009/02/01/nyregion/01leases.html?_r=1&scp=1&sq=recession%20landlords%20retailers%20discounts&st=cse
3. Bankruptcy. See "4,946 Reasons to Enter the Hottest Practice: Personal Bankruptcies" at http://www.lawmarketing.com/pages/ArticleLogin.asp
4. Litigation of all kinds. See "Litigation Will Lead the Legal Profession Out of the Recession in 2009" at http://www.lawmarketing.com/pages/articles.asp?Action=Article&ArticleCategoryID=58&ArticleID=846
5. Government contracts. Soon there will be billions flowing to government agencies to rebuild roads and bridges. Contractors and builders will need help negotiating with the government.
6. Estate Planning. The Baby Boomers, born from 1946 to 1964, are now 77 million strong and they compose 23% of the population. They are in the age range of 45 to 63, and 4 million will hit age 60 each year. Estate planning is top-of-mind as they face empty nests, physical aging and end of life issues. Their retirement savings just got a 25% to 40% haircut, presuming they have any savings, and they want to get their affairs in order. The key motivating event: a fall. When a Boomer has a serious injury or illness, they and their kids want them to talk to a lawyer. Now is the time for lawyers to set up referral arrangements with urologists, cancer doctors and elder care counselors. Lawyers should be giving speeches at assisted living homes and senior clubs.
I see six hot areas of law practice for regional and midsized firms. Now is the time to step up law firm marketing in the following areas:
Read more detail on Legal News Directory – Legal Marketing
Legal notice about the
Six Hot Areas of Law Practice for Regional and Mid-sized firms
rubric : Hukuki Net Legal News is not responsible for the privacy statements or other content from Web sites outside of the Hukuki.net site. Please refer the progenitor link to check the legal entity of this resource hereinabove.
Do you need High Quality Legal documents or forms related to Six Hot Areas of Law Practice for Regional and Mid-sized firms?