Thanks to a cool breakthrough in technology, you can now see live what topics members of the LawMarketing Listserv are talking about. Just go to http://www.lawmarketing.biz/ and read the TV screen.
The LawMarketing Listserv is a friendly collection of marketers, practicing attorneys, experts and journalists. If youve got a question we can answer it. If youre facing a challenge, well get you through it. Click to see what people are saying about the Listserv.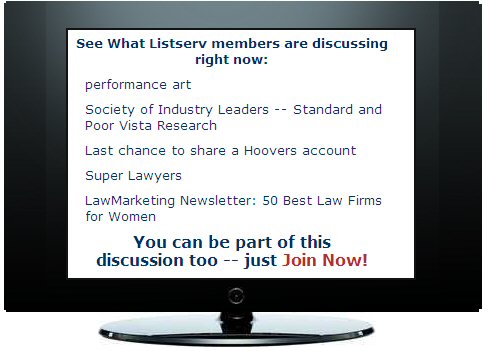 In contrast to other listservs, we dont ask dumb questions "where can I make a restaurant reservation in San Diego?" or answers you can find in Google or the phone book. Our members tend to be more senior, more experienced. You dont need to belong to any marketing trade association to be a member, so you can say what you really think.
Our hundreds of expert members include marketing experts at Drinker Biddle & Reath, Carlton Fields, The BTI Consulting Group, LexBlog, Schmidt Marketing, The National Law Journal, Duane Morris, Greenfield Belser, Bracewell & Giuliani, Ropes & Gray, ConsultWebs, Morrison & Foerster, Proskauer and many more. You should be in this group.
I tip my hat to the web engineers at First Step Internet for creating the digital window for people to see into the Listserv.
Read more detail on Legal News Directory – Legal Marketing
Legal notice about the
See What Were Talking about on the LawMarketing Listserv
rubric : Hukuki Net Legal News is not responsible for the privacy statements or other content from Web sites outside of the Hukuki.net site. Please refer the progenitor link to check the legal entity of this resource hereinabove.
Do you need High Quality Legal documents or forms related to See What Were Talking about on the LawMarketing Listserv?