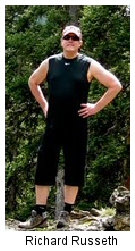 I love this line from Richard Russeths blog The Last Generalist. As the General Counsel for Leprino Foods in Denver, CO, he offers 7 mistakes to avoid with your in-house client:
1) Email Signature Line I cannot tell you how many times I think to myself: "I should give Bill a call." And I search for Bill on my email account, get a bunch of hits, open one at random and… nothing. No address. No phone(s). No website. Nothing. It is such a simple thing. Or, worse yet, I get an email from someone, open it, and decide I should call them and…nothing. So I have to look up the firm, look up the lawyer and then call. Sure, I should probably have everyone's number immediately available on my cell or my office phone – but really, wouldn't you like to make it just as easy as possible for me to call you?

2) Call Me Back We all like email. We can pose and respond to questions in "email time." Which is to say, in our own good time. But guess what, when your client actually phones you, its safe to say she's not operating on Internet Time. She's operating on "I've Got A Problem, Pick Up Your Damn Phone" Time. Or it may be one of those issues that takes too long to write about or is too nebulous or whatever. In any case, if your client leaves you a message, call him back ASAP. Around my office we have a two hour rule. Any email and any phone call must get returned within two hours – unless its clear from the email or the voice mail that the two hour rule need not apply.

3) Keep Your Promises I met with the senior partner of BIG, LABOR & FIRM, a very large and famous US law firm that focuses almost exclusively on employment law issues to see what they could do for me on a very specific topic that was of some importance to me, and for which they claimed not a little experience. "We'll be back to you next week with a proposal laying out the work to be done, a time line and a budget estimate," said well-dressed partner. Shook hands. Exchanged pleasantries. He left. That was a month ago. Suffice to say that even if I ever actually get the proposal, its unlikely that BIG, LABOR & FIRM will ever get a billable hour from my company.

4) Bill, Bills and Disagreements Two different scenarios for your consideration. Scenario A: I get a bill from the firm of INCREDIBLY, EXPENSIVE & SMART. Its a very large bill. Really large. Seven figures big. I find what I consider to be an error, an inappropriate charge or too many lawyers or something. Maybe five figures. I call you. The senior partner. We talk. You get all defensive. Really defensive. And we finish our call without resolution. I get an email a week later offering to split the difference. Now Scenario B. I buy a pair of really, really expensive shoes at Nordstrom. After wearing them for three weeks, I take them back because they hurt my feet. They give me my money back and don't even ask why I'm returning the shoes. But they do so because they want me to buy another pair of shoes later that I probably won't return. And to do that again and again and again. You see, they want to sell me all the shoes I will ever buy and take back the very occasional one I don't like.
If Nordstrom was a law firm, I'd give them my business. All of it.
5) Smart, Fast and Pleasant I once asked a NY lawyer, to whom I gave much business, what the secret to his success was: "Well," he said. "I find that if you're smart and know a lot about the law, give your client's really fast turnaround on their issues, and are pleasant to work with, you get and keep lots of clients." He paused for a moment and then said with a twinkle in his eye: "And if you are really fast and really pleasant, you don't really have to be all that smart."

6) We're Your Customers, Not Your Clients You are not doing us a favor by being our legal counsel. You might think you are, but then I probably wouldn't hire you in the first place or ever use you again, as the case may be. Oh, sure, for all your professional responsibility analysis and conflict analysis and for referring to us in court, please say: "my client." But you should think, "my customer." Because that's what we are. You might be smarter than us in many ways, but we were smart enough to hire you. And we'll be smart enough to fire you, if it comes to that.

7) Don't Be Busy The best outside counsel I ever had always made me feel like I was his only client. Clearly, since he was a partner in a major NY firm, that was not the case. But I felt like I was and that was pretty great. He understood items 1 – 6 of this blog post. I guarantee that nothing grates worse for a client than "I am totally swamped right now, I could get to this in a couple of days – would that be OK?" No, its not. Trust me, there's a firm down the street or across the country (doesn't much matter anymore where the firm is, does it?) that will do it for me TODAY.
Read more detail on Legal News Directory – Legal Marketing
Legal notice about the
"If you are really fast and really pleasant, you dont really have to be all that smart"
rubric : Hukuki Net Legal News is not responsible for the privacy statements or other content from Web sites outside of the Hukuki.net site. Please refer the progenitor link to check the legal entity of this resource hereinabove.
Do you need High Quality Legal documents or forms related to "If you are really fast and really pleasant, you dont really have to be all that smart"?