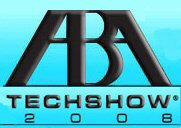 Marketers will find a feast of programs on how to use technology to connect to new clients at the annual ABA Techshow 2008 coming up on March 13-15 in Chicago. More than 1,500 people will convene at the Chicago Hilton.
There are 16 educational tracks including Advanced IT/Security, Client Relationships, E-Discovery, Going Green, Internet, Large Firm/Corporate Counsel, Litigation, Mac Track, Microsoft Office, Mobile Technology, Paperless Office, Records Management, Roundtables, Show Me How, Solo/Small Firm I and Solo/Small Firm II.
Among the programs that caught my eye were:
60 Sites in 60 Minutes with speakers Tom Mighell, Reid Trautz and Craig Ball. This perennial favorite is always one of the best attended sessions. The panelists will review the hottest new websites for lawyers and legal professionals — great web resources on legal technology, practice management, research, ethics, and theyll toss in some practical and fun stuff, too.
4:15 PM, Friday March 14
Lawyering In a Virtual World: How to Snag the Connected Client, with Judge Monty Ahalt, Will Hornsby and Greg Siskind
8:30 AM , Friday March 14
Working Together from Wherever You Are: The Lawyer's Guide to Collaborating on the Internet, with Dennis Kennedy and Tom Mighell
1:00 p.m. Friday March 14
Winning the Beauty Pageant: Catching Corporate Counsel's Eye with Technology, with Ted Banks and Toby Brown
1:00 p.m. Friday March 14
Matchmaker, Matchmaker: Connecting with New Clients Using Technology, with Kevin O'Keefe and Greg Siskind
8:30 a.m. Saturday March 15
Client Retention: Technology to Avoid the Seven-Year Itch with Toby Brown and Carolyn Elefant
9:45 a.m. Saturday March 15
Whos Watching You? A Conversation About Privacy on the Internet
ABA TECHSHOW 2008 Keynote Address: Marc Rotenberg is Executive Director of the Electronic Privacy Information Center (EPIC.ORG) in Washington, DC. He teaches information privacy law at Georgetown University Law Center and has testified before Congress on access to information, encryption policy, consumer protection, computer security, and communications privacy.
1:00 PM, Thursday March 13
You can register for ABA TECHSHOW 2008 online at http://www.abanet.org/techshow/
Read more detail on Legal News Directory – Legal Marketing
Legal notice about the
Get Smart on Marketing with Technology at ABA Techshow
rubric : Hukuki Net Legal News is not responsible for the privacy statements or other content from Web sites outside of the Hukuki.net site. Please refer the progenitor link to check the legal entity of this resource hereinabove.
Do you need High Quality Legal documents or forms related to Get Smart on Marketing with Technology at ABA Techshow?